19th Aug 2023 - by Christian Galvez
Ashley Furniture Sectional - Your Ultimate Guide
To all our beloved Houston residents! Are you in the mood to spruce up your home with some fantastic furniture? If you answer yes, get ready for a delightful surprise! We've got the lowdown on the best spot to snag Ashley Furniture right here in Houston, our beloved city.
Let's get ready to meet Kassa Mall Home Furniture and Mattress – your new go-to for all things home furnishing. also one of the biggest Ashley Furniture distributors in the whole of Texas including .
Ashley Furniture is like that cool friend who knows how to make a space feel both cozy and stylish. From pieces that look classic to those super-modern creations that'll make your jaw drop, Ashley Furniture has it all.
Many people looking online for "resale furniture stores near me" have found that kassamall.com offers the largest variety of furniture at wholesale prices.
Take for this Beautiful Ashley Furniture Sectional called Rawcliffe 3-Piece Sectional with Ottoman for instance.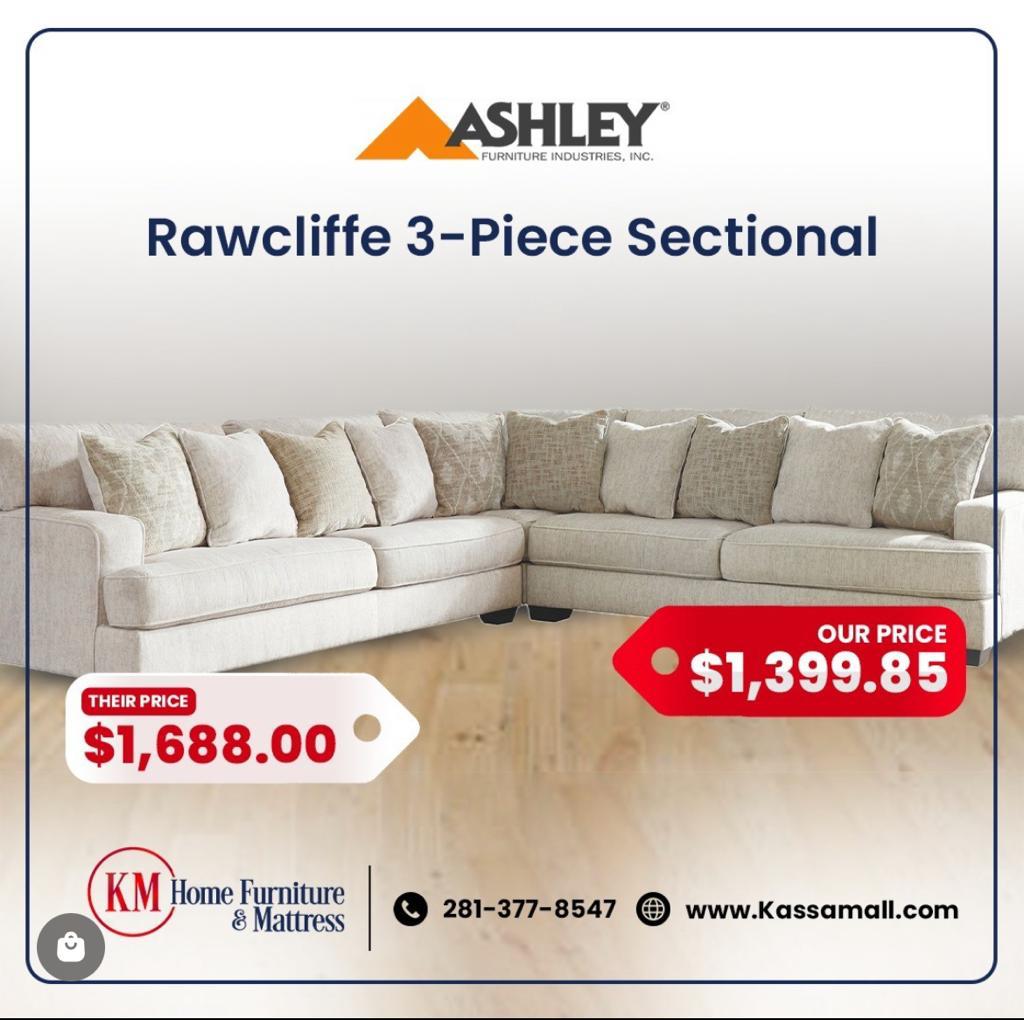 this Ashley Furniture Sectional is the perfect addition for those loving the idea of a contemporary style that's ultra warm and inviting. The Rawcliffe 3-piece Ashley Furniture Sectional with oversized ottoman is the casual refinement you'll love living with. Click here and learn more bout the Rawcliffe 3-piece Ashley Furniture Sectional.
Step into Kassa Mall's Wonderland!
Picture this: you walk into our Houston showroom, and it's like stepping into a furniture lover's dreamland. From elegant dining sets to comfy couches that practically beg you to sit down, our collection has something for everyone. We're not just any store – we're the place to be if you're an Ashley Furniture fanatic.
More Than Just Furniture: It's an Experience!
You know how difficult is to decide on the piece of furniture you have always loved to have at your home. If you're searching for "fine furniture stores near me," you'll come across several high-end furniture designers with expensive ticket prices.
Explore our collection of carefully crafted furniture that will harmonize with the very soul of your abode. Experience the embrace of comfort as you settle into our thoughtfully designed sofas – every stitch showcasing opulence and excellence.